As Seen In
Diipoo is worthy of your trust!
Gallery
Are you still on the fence? View our pictures.
Anime Figures Style
Two types of anime figures: Scale Figures. Q Posket Figures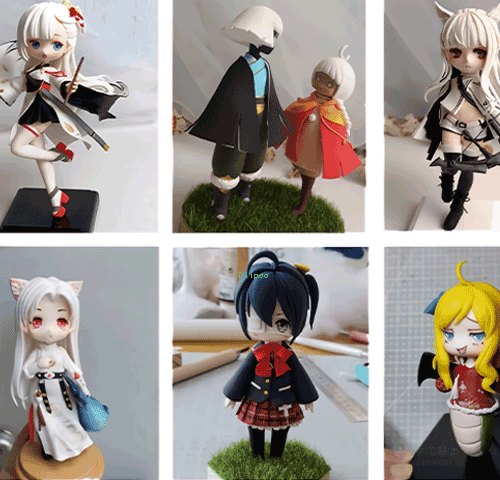 Q Posket Figures / Mini Figures
Q posket figure is a collectible figure series sized around 14cm. It comes with sweet expression, absorbing large glossy eyes, and unbearably charming cheeks. Cute Doesn't Get Any Cuter Than Q posket! Q Posket line has incredibly accurate character detail, striking poses and vivid color schemes. Custom mini figures 10 cm.
Scale Anime Figures
Anime scale figures are a type of fixed-pose figure that is sized based on the "actual" dimensions of the anime character. These proportional figurines will include a size reference, like 1/7th, 1/6th or 1/2th. Diipoo's custom scale figures can meet all your requirements, such as customizing the head, hands, legs, and even various poses.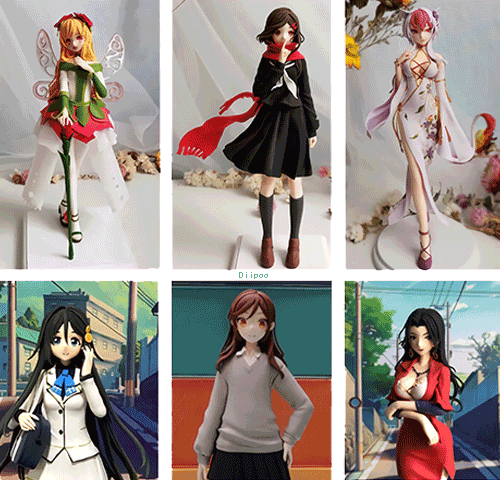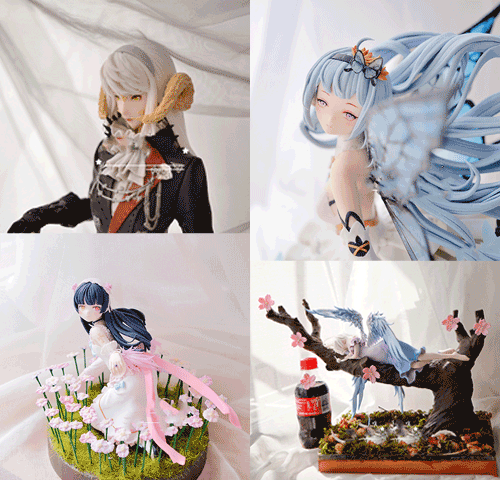 Polymer Clay Scale Figures 
The material is hard, Polymer clay can perfectly make anime figures. Diipoo also provides production scenes to make your figure better and more perfect. New products are here! Diipoo's Polymer clay scale figures, although they are very expensive, you can customize different scenes, such as adding bases, trees, ponds, flowers, grass, and so on. It can satisfy all your preferences.
Super-Light Clay
Resin clay
Polymer clay
Custom Mini Figures: 10 cm
Q Posket Anime Figures: 10-15 cm
Scale Anime Figures: 18-30 cm
PSD, JPEG/JPG. PNG

The completion date is about 7-30 days after order
Hand-made anime figure can't be 100% perfectly made, please do not place an order if you mind
Do not wash with water, and keep it away from direct sunlight at home. It's recommended to place  it on the clean, cool and dry wall.
Do not touch rough goods;
Keep away from sharp objects such as scissors and needles;
*This doesn't include our 2-5 day processing time.
What is anime figures?
Anime figures are model kits made of resin, plastic, clay and other materials based on characters in anime, comics, and games.
What is a custom anime figure?
Customized anime figures can DIY the products according to the needs of customers. For example, you can modify the size of the figure; change expressions, clothes, weapons, etc.
What is a Q Posket figure?
The most distinct feature on this series is the eyes of the figurine, you'll notice the large beady-like design gives it a very expressive look. Along with that, the Q Posket line has incredibly accurate character detail, striking poses and vivid color schemes.
What is a Scale figure?
Scale figures. Scale figures are intended to be an exact replica of the character, including their height and all the extra little details and usually they're linked to certain scale. Scale figure are relatively expensive when compared with other figure types.
What is Super-Light Clay?
Super-Light Clay is a material for the anime figure. Fine in quality and Exquisite in color, smooth feel, non stick, ultra light and resilient, easy to handle. when it dries and hardens clay stays lightweight. Non-toxic and environmentally friendly, can be stored for a long time
What is resin type clay?
Resin clay has a smooth texture and finish. Due to its strength and elasticity, it can be pressed very thinly and it can be mixed with other colored clays to make anime figures.
How long does it take to make a anime figure by handmade?
The production time of the Q Posket figure is about 1-2 weeks; The production time of the scale figure is about a month, and the time may vary.
Is it perfect to make an anime figure by handmade?
Hand-made anime figure can't be 100% perfectly made, please do not place an order if you mind.
Can I see the process of making an anime figure by hand?
Yes! We will send progress pictures by email.
How to customize anime figure commission?
If you would like to commission a custom anime figurine, Diipoo offers an online tool called the Custom Anime Figures Maker. All you need to do is upload an image, and we will create your personalized anime figurine, such as: mini anime figures, big anime figures, full scale anime figure. If you have more specific requirements, you can discuss your commission for an anime figurine through email. Please make sure to clearly communicate your requirements to Diipoo and provide as many pictures and details as possible, so we can do our best to accommodate your request. If you need any further assistance, please let us know.