As Seen In
Diipoo is worthy of your trust!
Reviews
Everyone loves Diipoo! Our satisfied customers are the best advertisement.
BEST WALL SCROLL!
The quality is very good! Diipoo's service is also very good. My picture was not clear enough, and Lei helped me enlarge it four times. Thank you.
Great Quality
The printing is incredibly vibrant, just a lovely job all around. No gross VOC smells on unpacking, and it fluffed up immediately. Purchased as a gift and they love it!
GREAT
will buy another one in the future.
Comfy and stylish
New 3D mousepad arrived.
Just like the previous one its top tier!!!
Amazing work.
This is epic!!!
After i got my new phone i was so ready for a custom phone case.
And now i´m actually schocked how amazing it looks.
It is so beautiful.
I bought two scrolls!
The printing effect is very good, and the black scroll is the cheapest!
In love with my Wonho mousepad!
I am very happy with the purchase. The shipping was very reasonable and the item is very good quality. I actually received the first order damaged and they corrected it right away shipping me a new one and came quickly and it was perfect! Great customer service!
I ordered a custom hair and faceplate, with 2 ocarinas, and I'm very happy with the result! The pieces were packed with lots of padding (foam, bubble wrap and cotton), so even though the box was a bit beat up there was nothing lost or broken. Communication was fast and responsive, whether on email or discord.
Amazing!!!
Was really looking forward for the result and it turn out really good.
Totally worth it. Just like the custom 3D Mousepad i ordered long time ago from here
Getting a custom RGB Mousepad on Diipoo was the best choice for me,
Keep up the good work.
BETTER THEN I THOUGHT
I WILL BE GETTING MORE FROM HERE,I WAS SUPER FAST AND I CANT STOP LOOKING AT MY ITEM!!
Didn't know what to expect, but I'm glad I bought it.
First time ordering a body pillow case. Wasn't sure which fabric to go with, but after reading up on the difference between them, I went with the new 2 way. Didn't know what to expect, but I'm sure glad I went with it. I'm really impressed with everything about it. The way it looks, the quality of the art came out on it, and how soft the fabric is. Was not expecting it to look so good.
I will definitely be a returning customer when I'm in need of another case.
Would 100% recommended both Diipoo and new 2 way fabric.
Gallery
Are you still hesitating? View our pictures. Diipoo's Custom Nendoroid Service is an innovative platform that allows you to create unique, personalized Nendoroid figurines. Our service enables users to customize clay figures based on their preferences or potentially create replicas of real people based on provided photos or descriptions. This makes it ideal for producing bespoke gifts, personalized ornaments, and unique tokens of appreciation.
How to Make a Custom Nendoroid?
You can personalize a Nendoroid using any picture. Simply upload one or more images, and Diipoo can customize aspects such as the Nendoroid's hair accessories, hair, hats, glasses, face, eyes, eyebrows, ears, expressions, and accessories. Choose between a unified Nendoroid design or one with detachable parts. We can adjust the customization process via email or Discord communication, assuring you end up with a perfectly tailored Nendoroid figurine.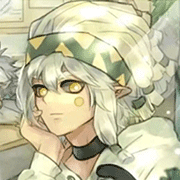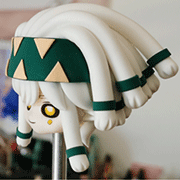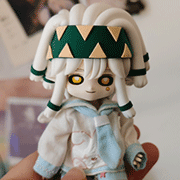 Discuss Nendoroid details
Features
Customize nendoroid online, no minimum ordering quantity, free delivery, design your own nendoroid online!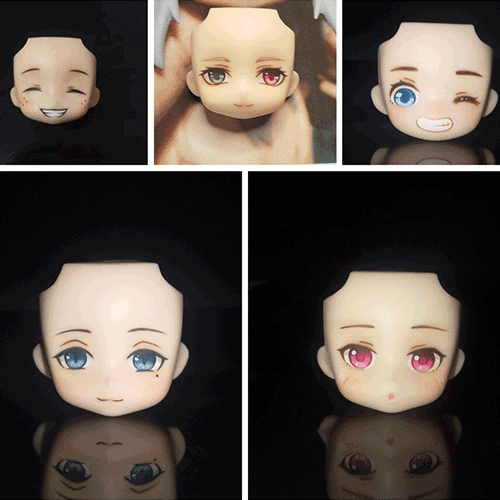 Discover a World in a Smile with Our Nendoroid Figurines 😊😍😎
Our Nendoroid figurines come with a range of expressions – from smile to surprise, all perfectly captured.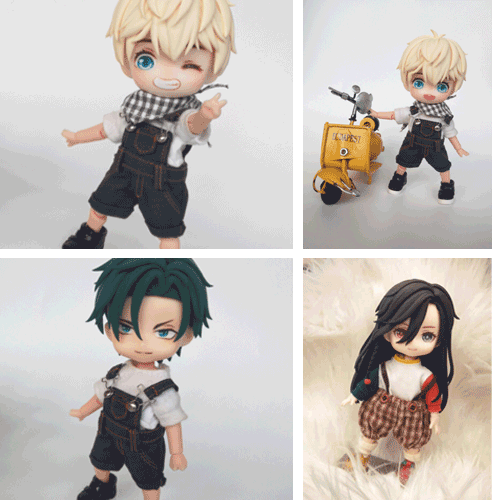 Life-Like Nendoroid Figurines 🎨
Our clay figures strikingly capture reality. Each is handcrafted for an impressive, lifelike look.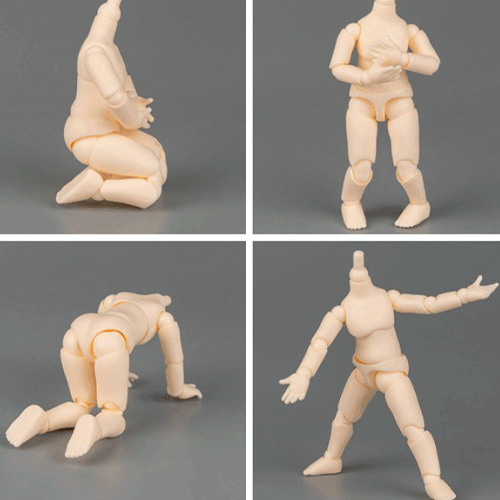 Try Our GSC and OB11 Nendoroid Dolls 🏆
We're offering GSC and OB11 Nendoroid dolls crafted with detail and an eye for quality. Experience the best in clay doll making.
Types of Nendoroids
Diipoo can customize various types of Nendoroids, rich expressions, and different accessories.
Custom Nendoroid Face
Detachable hair and face, hair can match multiple faces. The hair is made of super light clay and the face is made of GSC face.
Hair and face can not be split, the material is ultra-light clay.
Making custom nendoroid faces, including eyebrows, eyes, nose, and mouth, which can be personalized according to your needs, to make the facial expressions of the nendoroid character more diverse. You can choose different expressions, such as closed eyes, squinting, smiling, or frowning. Additionally, you can also choose different colors, such as yellow, white, black, etc., to create a unique nendoroid character. This customization method is widely applicable and provides multiple options.


Custom Nendoroid Hair
Nendoroid hair can be customized, you can refer to pictures, whether it is long hair, short hair, or braids, we can make them. Hair color and hairstyle can also be made.
Nendoroid hair is typically made out of PVC or ABS plastic and is designed to be easily interchangeable with other Nendoroid figures. Diipoo's customized Nendoroid hair will be handmade, please understand. The hair is often sculpted to match the character's appearance in their respective anime, manga, or video game, and can come in a variety of different styles and colors.
Some Nendoroid figures also come with additional hair pieces that allow you to create different hairstyles for the character. These hair pieces can be swapped out with the figure's default hair, allowing you to create different looks and poses for your Nendoroid collection.
Overall, Nendoroid hair is an important part of the figures' design and adds to their overall charm and appeal.
Custom Nendoroid Accessories
Custom nendoroid hair accessories, rabbit ears, cat ears, fox ears, glasses, hairpins, Diipoo can all be made!
You need to determine the type and quantity of accessories for nendoroid doll figures, such as hair accessories, hats, headscarves, glasses, etc. Introduce your ideas and requirements to Diipoo and inquire whether they can make the accessories you need. If you have designs or models for the nendoroid doll accessories, please send them to us. Gentle Dusting: The simplest and first step to cleaning a Nendoroid is to remove accumulated dust. You can use a soft brush such as a clean makeup brush to very gently dust the figure. Be careful in handling small and delicate parts.
Soap and Water: For a more thorough clean, separate all the parts, then clean the larger parts like the body and head with mild soap and water, using a soft toothbrush to gently scrub off any dirt. Make sure the soap doesn't have any harsh chemicals that can potentially damage or discolor the figure.
Cleaning Small Parts: For smaller, delicate parts, you may want to avoid water and instead use a soft cloth or cotton swab dipped in alcohol to clean them.
Drying: After you clean your Nendoroid, it's critical to dry all the parts completely. You can blot the parts dry with a soft towel and then let them air dry. Don't reassemble the Nendoroid until all parts are totally dry to avoid trapping moisture inside, as this could cause mold or discoloration.
Handling Stains: If your Nendoroid has developed stubborn stains, you might consider buying a special cleaning product that's safe for use on PVC and ABS plastics (the materials most Nendoroids are made from). Carefully follow the instructions on the product label.
Super Light Clay.
GSC Nendoroid Doll.
Head Circumference: Approximately 12.5cm.
PSD, JPEG/JPG, PNG

The completion date is about 15-45 days after order.
We can't 100% guarantee to achieve the custom Nendoroid Doll you want, there are occasional flaws, hope you can understand.
Do not wash with water, and keep it away from direct sunlight at home. It's recommended to place  it on the clean, cool and dry wall.
Do not touch rough goods;
Keep away from sharp objects such as scissors and needles;
Customized Nendoroids pay attention to waterproofing;
When changing the head, try not to touch the face;
Nendoroids have dust, do not use water.
Custom Nendoroid Commission
Diipoo offers custom Nendoroid figurine services with a minimum order quantity of one piece. You can provide a photo to customize your Nendoroid figurine; each will be a personalized work of art. Express yourself through your Nendoroid figurine and make your style and personality tangible! Simple Nendoroid figure maker customization tool, allowing you to customize your own figurine without leaving home. We will communicate with you through email or Discord.

Choose an image for your Nendoroid
First, customers submit the customization information they desire. This can be as detailed as desired, from the facial features and hairstyle to clothing and accessories.

The artist creates a Nendoroid.
Experienced professional clay sculptors from Diipoo begin the design process. Based on your pictures, they design the Nendoroid hair, face, ears, mouth, accessories, and finally add color. They use advanced techniques to carefully shape each Nendoroid figure, making every piece truly lifelike.

Diipoo is ready to serve you anytime
We can customize high-quality and affordable Nendoroids according to your design and deliver them to any country or region in the world. The finished Nendoroid doll product is safely packed and shipped directly to the customer's doorstep.
*This doesn't include our 2-5 day processing time.
What is a nendoroid?
A Nendoroid is a type of small, highly collectible, and customizable figurine produced by the Japanese company Good Smile Company. The term "Nendoroid" is a combination of the words "nendo," which means "clay" or "modeling clay," and "oido," which means "oid" or "similar to." Nendoroids are designed to be similar in style to chibi or super deformed characters, meaning they have oversized heads and small bodies. Nendoroids are typically between 3 to 4 inches tall, and they feature interchangeable parts, allowing collectors to customize their figures to their liking. They also come with a variety of accessories and props that can be used to create unique and creative poses. Nendoroids are based on various popular anime, manga, video game, and movie characters, and they are highly sought after by collectors all over the world.
What was the first nendoroid?
The first Nendoroid was Nendoroid Haruhi Suzumiya, which was released by Good Smile Company in February 2008. Nendoroids are a type of chibi-style figure that are known for their cute, deformed designs and interchangeable parts that allow for customization and posing. Since the release of the first Nendoroid, many more characters from anime, manga, video games, and other media have been turned into Nendoroids, making them a popular collectible item among fans around the world.
How tall is a nendoroid?
Nendoroids are typically between 3.9 to 4.3 inches (10 to 11 centimeters) in height. However, the exact height may vary depending on the design of the specific Nendoroid figurine. Some Nendoroids may also come with additional parts or accessories that can alter their height slightly.
Can I provide a picture to customize the Nendoroid?
Yes, you can provide real-life pictures, anime pictures, game pictures, hand-painted pictures, etc.
Can Nendoroid hair and accessories be customized?
Yes, please purchase related accessories.
How to install custom Nendoroid head?
Insert the head into the neck.
24/7/365 Customer Service
Diipoo is here for you! Whether you have questions about our products or want to discuss other topics, we are happy to answer all of your questions.
3-7 day Shipping Time
The fastest shipping time is 3-7 days, and we also offer global shipping to any country or region of your choice.
50,000+ Satisfied Customers
More than 50,000 people have chosen Diipoo's custom product services. We treat every customer with care, whether they are an artist or an ordinary user.