As Seen In
Diipoo is worthy of your trust!
Gallery
Are you still on the fence? View our pictures.
Features
Customize dakimakura keychain online, no minimum ordering quantity, free delivery, design your own mini dakimakura keychain online!
High-definition double-sided printing, the pattern is very clear, the color is perfect, the dakimakura keychain is not easy to fade.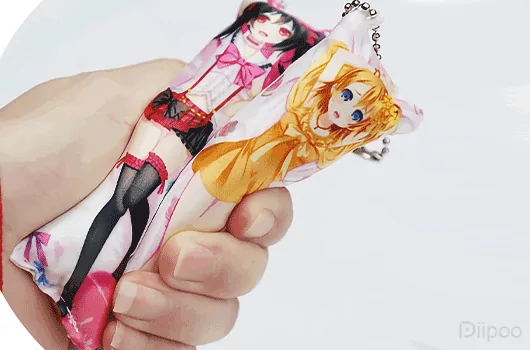 The PP cotton is filled with fullness, and the mini dakiamkura pillow keychain is soft and elastic.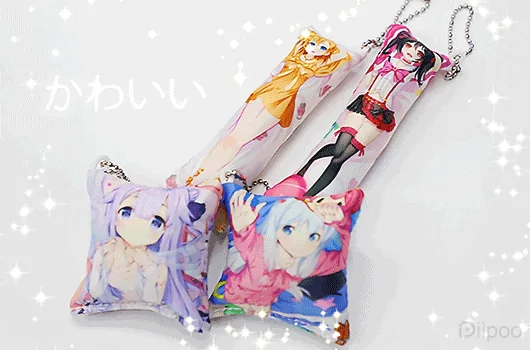 Dakimakura pillow keychain can be used as mobile phone ornament and backpack ornament.
Double Sided Printing
Thermal Transfer Technology
PSD, JPEG/JPG. PNG

The completion date is about 3-7 days after order
Please consider the proportion when designing. As the fabric is cut and sewn, the picture will be stretched many times, resulting in poor printing. However, we will make some corrections.
Do not wash with water, and keep it away from direct sunlight at home. It's recommended to place  it on the clean, cool and dry wall.
Do not touch rough goods;
Keep away from sharp objects such as scissors and needles;
*This doesn't include our 2-5 day processing time.
What is mini dakimakura keychain?
Dakimakura keychain is a product developed by Diipoo, it is very small and cute, beautifully printed. It's very suitable for people who love anime and games, carry a pillow with you, let you put it down.
What is mini dakimakura keychain?
A body pillow keychain is a small keychain that resembles a miniature body pillow. It is typically made of soft peach skin material, it can be used as a decorative item for keys or other personal belongings. Some people may also use it as a stress relief tool by squeezing or hugging it when feeling anxious or stressed.
What are the benefits of custom mini pillow keychains?
Custom Mini Pillow Keychains can be used as your accessories. You can hang them on your phone or keys, and when you encounter stress, you can press them to relieve the pressure. Diipoo provides various sizes, and you can customize the design of the mini pillow. The dakimakura keychain will satisfy your preferences.
Does Dakimakura keychain support customization?
We do not limit the quantity, you can upload a picture to customize the Dakimakura keychain.
Does Dakimakura keychain support wholesale?
Support! Please contact us, If you have any questions, please contact us. ihaveadreamlimited#gmail.com