What is a 3D Mouse Pad?
The 3D mouse pad, also known as the Oppai mouse pad, features a printed half-body image on a 3D stereoscopic mouse pad. Manufacturers often print anime-themed designs on these pads, which are sold online as derivatives of movies, TV shows, and games. The designs are often revealing, making them appealing to otaku fans. The detailed facial features and sexy upper bodies of the mouse pads can inspire the imagination. Despite their unique characteristics, these mouse pads have gained popularity among fans because they are not only fun but can also prevent mouse-related injuries.
Why choose a 3D mouse pad?
Apart from their attractive appearance, the most important feature of 3D stereoscopic mouse pads is their ability to protect the wrist. As we all know, prolonged use of computers and mice can easily lead to "mouse hand," especially for professionals such as programmers, designers, and editors. This condition can cause numbness in the fingers and a dull pain that can become severe enough to lead to permanent disability. This risk is not just limited to office workers but affects white-collar professionals as well. Therefore, it is essential to take steps to prevent mouse hand syndrome.
How to prevent mouse hand?
To prevent mouse hand, first make sure you maintain proper posture. Generally, the height of the mouse should be the same as the elbow's height when the forearm hangs naturally, with the forearm and elbow at a horizontal level, making the wrist feel comfortable. Secondly, avoid long periods of excessive use of the mouse and regularly relax the wrist. Finally, use a mouse pad with ergonomic design to prevent mouse-related injuries. Diipoo offers over five different sizes of 3D mouse pads ranging from 25mm to 8cm high, meeting the needs of different people with various hand sizes.

Simple customization methods
All you need to do is submit a half-body photo to Diipoo, and we will turn it into a mouse pad design. Diipoo also accepts large-scale production, and after waiting for 1-3 weeks for transportation, you will receive your very own 3D mouse pad.
A must-have product for otaku fans
Diipoo's personalized mouse pads are loved by young people worldwide, especially in the US and Germany. In Japan, the functional and beautiful women's mouse pads are considered one of the "otaku artifacts." The culture surrounding these mouse pads has become a phenomenon of the otaku community.
Types of 3D mouse pads
Custom 3D mouse pad can make your workspace unique. There are four types of 3D mouse pads currently available: Oppai mouse pads, male chest muscle mouse pads, buttocks mouse pads, and hentai mouse pads. You can use your imagination to create different types of personalized mouse pads.
Customized Oppai mouse pads
Diipoo's customized Oppai mouse pads are made with 2-way fabric. When you press your favorite anime character's Oppai mouse pad, you can see the character's expression. Place your hands between the breasts and feel the pleasure.
Customized male chest muscle mouse pads
Diipoo's customized male chest muscle mouse pads incorporate ergonomics and can relieve wrist fatigue caused by prolonged mouse usage. The hormone scent emanates from the male chest muscles.
Customized buttocks mouse pads
Compared with flat mouse pads, Diipoo's customized buttocks mouse pads can reduce friction between the hand and the mouse pad surface. Diipoo accepts NSFW pictures, whether they depict real or virtual characters. With Diipoo's customized 3D mouse pad page, your dreams can come true.
Customized hentai sexy mouse pads
Diipoo's customized hentai sexy mouse pads use edge-to-edge fabrics and silicone fillers, providing a soft and comfortable touch and better wrist protection. An expression of shame on a busty beauty will appear on your desktop, making it irresistible.
Advantages of Diipoo's 3D mouse pads
16x image enlargement
Diipoo's exclusive technology can enlarge unclear images by 16 times. Even a 10KB image can be turned into a high-definition picture with Diipoo.
Excellent 2WAY material
The 2WAY fabric used in the single-sided 3D breast mouse pad is smooth to the touch. Diipoo abandoned Lycra material because it had a severe grainy texture and only uses the best materials.
Long lifespan
The raised part of the mouse pad can protect the wrist and is very durable. The surface area of the mouse pad is large, and it is much thicker than conventional gaming mouse pads by 2mm. It will not break down after long-term use, giving it a long lifespan.
Excellent anti-slip effect
The back of the mouse pad has an excellent anti-slip effect, which keeps the mouse pad stable and prevents it from moving. Mouse movements are smooth and delicate, with outstanding detail performance.
Why Diipoo?
In conclusion, 3D mouse pads are an innovative and unique way to prevent mouse-related injuries and add a touch of personality to your workspace. Diipoo's 3D mouse pads are particularly popular among otaku fans due to their anime-themed designs that feature revealing images of characters from popular movies, TV shows, and games. They offer a range of customization options, including Oppai mouse pads, male chest muscle mouse pads, buttocks mouse pads, and hentai sexy mouse pads, allowing customers to create personalized products that reflect their interests and preferences.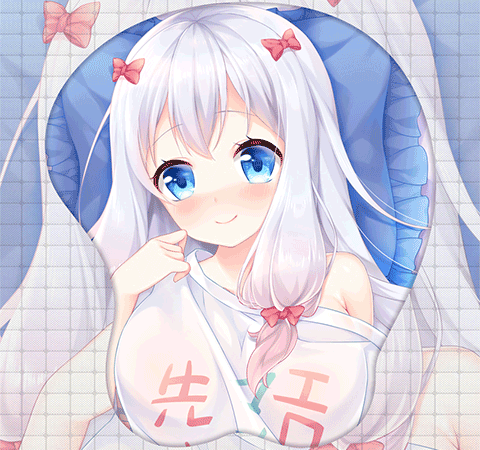 In addition to their attractive appearance, Diipoo's 3D mouse pads have several advantages over conventional mouse pads. They use high-quality materials and exclusive technology to ensure excellent image clarity and durability. The raised part of the mouse pad provides wrist support and comfort, reducing the risk of mouse hand. The large surface area and anti-slip backing also ensure smooth and precise mouse movements, improving overall productivity and reducing strain on the wrist and hand.
Overall, 3D mouse pads are an excellent investment for anyone who spends long hours working or gaming on a computer. Not only do they provide ergonomic support and prevent injuries, but they also add a fun and personal touch to your workspace. With Diipoo's range of customization options and high-quality materials, customers can be sure to find a 3D mouse pad that meets their needs and preferences.