Many people like custom love pillow, and feel that it can express their affections; especially those young sweethearts would more like to send some tokens of love.
As winter is coming, a body pillow is a very practical gift.
Before giving it to your be-loved, wouldn't you like to add a love pattern?—or, how about a flower-embroidered love pattern?
That looks surely nice, and the craftwork is not so hard. Interested in it?
Let's take a look at the specific handcrafted tutorials.
If you find it troublesome, you can also use Diipoo's online service for custom body pillows—where you can find a variety of sizes to choose.
Why we should custom love pillow?
Custom love pillow, simple but magnificent in appearance, the fiery red patchwork and snow-white embroidery patterns release a romantic and enjoyable atmosphere.
Preparing some heart-shaped DIY body pillows, and they can be the best Christmas gifts.
For the detailed DIY procedures, please refer to the following graphic tutorial.
The materials of heart-shaped body pillows:
Patches of red and pink cloth (used for patchwork);
Red velvet (used as the back cloth of body pillows);
Red cotton cloth (used as the background of patchwork);
Cotton fillers;
Paper patterns for embroidering;
Needles, thread, scissors, iron, tailor's pen
Don't worry, you can also buy custom Dakimakura.
How to custom made love pillow?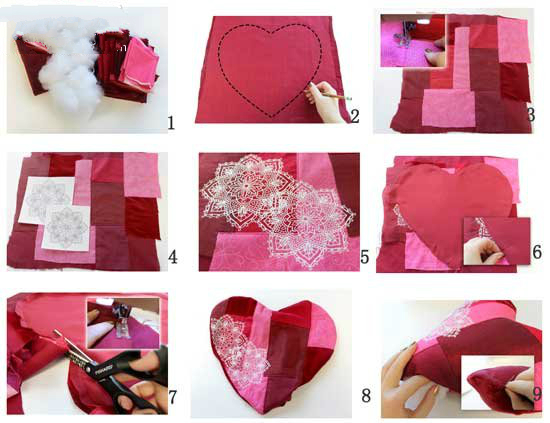 1) Prepare the necessary materials for DIY a body pillow;
2) Draw a heart outline with the tailor's pen on the background cloth, and cut it out;
3) Patch a slightly larger heart on the heart-shaped background cloth with red patches;
4) Put the paper pattern on the patchwork for embroidering;
5) Embroider the pattern with white embroidery thread;
6) Put the patchwork on the back of the body pillow, front to front, fix it with a bead needle and sew up along the heart-shaped edge, leaving a reverse opening;
7) Cut off the excess cloth edges around the heart-shaped body pillow and cut out a zigzag shape;
8) Turn inside the pillow out from the reverse opening;
9) Fill in the cotton fillers and sew up the reverse opening. Now, a heart-shaped body pillow is completed.
For more custom body pillow service, please use Diipoo's online service.