Do you want to remove the dog hair on the blankets?
Anyone who has raised a dog knows this problem. How To Get Dog Hair Out Of Blankets? This problem has been bothering us.
For handling all kinds of dog hair, when cleaning the room, we are always accustomed to using a vacuum cleaner to handle the dog hair on the blankets.
The fine impurities on the surface of blankets are easy to clean, but the fine hairs are difficult to clean. Especially the soft hair of pets in the house, such as kittens and puppies.
This soft hair is difficult to clean. Lei also has blankets at home, and custom blankets. Sometimes these problems are also dealt with.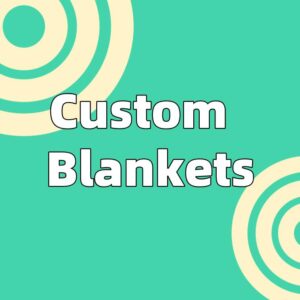 Below I will share a few commonly used tips and share with you.
Wide tape
Household cleaning brushe
Sticky paper
Vacuum cleaner
Broom cleaning
Hair removal tools
Wet water
Comb dog hair frequently
Clean room frequently
Develop dog good habits
Use wide tape to clean up dog hair
1. Use wide tape to clean up dog hair
Although this is a bit more laborious, it is the simplest, and basically every household has tape. It's best way to remove dog hair from blankets .
Instructions
Stick the adhesive paper on the wide tape;
Where there is dog hair on the blanket, roll back and forth;
If there is too much sticky hair, cut it off and use the new adhesive tape inside;
2. Brush off dog hair with a brush
Go to the store or supermarket to buy household cleaning brushes, the hairs are relatively long.
Instructions
You can brush in one direction where there is dog hair, and constantly remove the dog hair from the brush, we play the friction effect of the brush.
3. Sticky paper removal method
Instructions
This is also sold in general supermarkets. Use sticky paper to remove the hair.
However, this is for the situation where there are relatively few dog hairs in the house. If there are too many, it will be relatively laborious and difficult to clean up thoroughly.
4. Vacuum cleaner cleaning method
Because the vacuum cleaner has a certain power of suction, it can easily clean up the dog hair on the blanket or sofa. This method is faster.
Instructions
But when removing hair from clean clothes, pay attention to avoid secondary staining.
5. Broom cleaning method
Instructions
On the side of the broom, evenly wrap the wide transparent glue, pay attention to the sticky side facing out, the larger the area, the better.
Then glue the dog hair off the blanket, you will find that the cleaning is very fast, only need to replace the transparent glue.
After sticking, it is basically clean, and then wash it several times with water and dry it.
Note that the blanket must be dried for a few more days and placed in a ventilated place, otherwise the carpet will have a smell and it is difficult to remove
6. Hair removal tools
There is a tool for cleaning all kinds of hair at home, similar to the cylindrical shape of a roller.
Some hair removal tools are also sticky and can remove dog hair easily and quickly.
Instructions
Buy hair removal tools and use them directly
7. Wet water removal method
Instructions
If the dog's hair is not a lot, especially for the dog's hair that often stays on the blanket, you can get your hands wet. 
Touch the blanket with your hand, the dog's hair will stick to your hands, and then you can wash your hands, which is easier and faster.
8. Comb dog hair frequently
Combing at least once a day in summer and at least once a week in winter can greatly reduce the dog's hair at home.
Instructions
The focus of combing is on the back and tail, where the most hair is lost, and then comb the chest and abdomen with hands.
9. Clean room frequently
A vacuum cleaner is the first choice. The floors, sofas, tables and chairs, cabinets, beds, and various sanitary corners in the home can all be cleaned up, and even clothes covered with pet hair can be cleaned in minutes by changing the joint.
Instructions
Clean up with a vacuum cleaner at least 3 times a week in summer and at least once a week in winter to keep your home clean and "hairless".
It is enough to clean with a broom or duster.
10. Develop dog good habits
When the dog is standing on the blanket, you can tell it not to stand on it, which can reduce the amount of dog hair
Instructions
In short, no matter what method is used, everything is useless if you are not diligent. Of course, money is omnipotent, and there are many people who are lazy and clean. It is also a good way to pay more money and hire a reliable part-time worker to solve your troubles.
10 easy way to remove dog hair from blankets, I hope you can use these methods.