The Butt Mousepad, also known as the Ass Mouse Pad (Booty mouse pad), is a revolutionary 3D mouse pad product that has become the best friend of office workers.
As an avid anime fan, I believe that everyone will love the Butt Mousepad, especially since Diipoo offers customized designs for fans.
Why should you consider purchasing a buttock mouse pad?
With characters' buttocks printed on soft and elastic silicone material, the Butt Mousepad not only adds a touch of fun to your workspace but also helps prevent wrist injuries caused by long-term computer use.
It has become an indispensable computer accessory for modern people who value both comfort and health.
Using a Butt Mousepad not only improves work efficiency but also protects physical health.
Long hours of computer use can lead to discomfort such as cervical spondylosis, shoulder periarthritis, lumbar disc herniation, among others.
The appearance of butt mouse pads can reduce these diseases to some extent, contributing to users' overall wellbeing.
The market demand for butt mouse pads is continuously increasing, making it one of the most popular computer peripherals.

The types of Diipoo buttock mouse pads
Anime character butt mouse pads
Game character butt mouse pads
Animal butt mouse pads
Creative butt mouse pads
Anime character butt mouse pads:
Mouse pads with anime characters' buttocks are designed with cute anime character shapes, making them suitable for users who love second-dimensional culture.
For example, One Piece and Naruto.
Game character butt mouse pads:
Game character buttock mouse pads use game characters as design elements, making them suitable for gaming enthusiasts.
For example, Genshin Impact and Pokemon.
Animal butt mouse pads:
Animal buttock mouse pads are designed with various animal images as inspiration, allowing users to choose their favorite animal styles.
For example, cute patterns such as cats, dogs, and bears.
Creative mouse pads:
Creative mouse pads are creatively designed with interesting graphics or unique shapes that are perfect for users who like personalized products.

Advantages of buttock mouse pads
– Affordable price
– Good promotional effect
– A must-have product for girls
– Stress-relieving product
– Realistic touch feeling
– Fun
Affordable price:
Butt mousepads are very affordable compared to other computer peripheral products.
A good quality one can be purchased for just a few tens of dollars.
Diipoo's prices range from $19 to several hundred dollars.
Good promotional effect:
Buttock mouse pads also have a good promotional effect.
You can customize them with different patterns and use video marketing on platforms such as YouTube, Twitter, and TikTok to attract attention from the public.
A must-have product for girls:
Anime buttock mouse pads are specially designed for women who appreciate full-bodied figures.
Currently, the most popular ones among female fans are those featuring anime characters, game characters, or Korean stars, which they give each other as gifts expressing their love towards these idols while fantasizing about what might happen between them off-camera.

Stress-relieving product:
Some buyers enjoy squeezing or poking these types of products, which not only feature designs specific to certain fandoms but also cater to foot fetishists by providing an area where they can press down on it using their wrist while using the computer.
Realistic touch feeling:
Diipoo's customized 3D buttock mouse pads not only focus on size and softness but also provide a unique tactile experience.
Customized buttock mouse pads are usually made using high-resolution digital printing technology, which Diipoo can enlarge up to 16 times!
Diipoo's vision is to provide customized life for otaku.
Diipoo has many products, and we strictly control the quality of our products.
Fun:
Buttock mouse pads bring more fun to people's lives.
They not only make it more enjoyable to use a mouse pad but also add some beautiful elements to our lives.
After research and development, Diipoo's anime buttock mouse pad has gained a certain market share in the market.
Choose Diipoo Customized Butt Mousepad
Custom 3D mouse pad with different images is a fun way to customize your buttock mouse pad. Diipoo's 3D mouse pads offer comfort, versatility, and unique designs.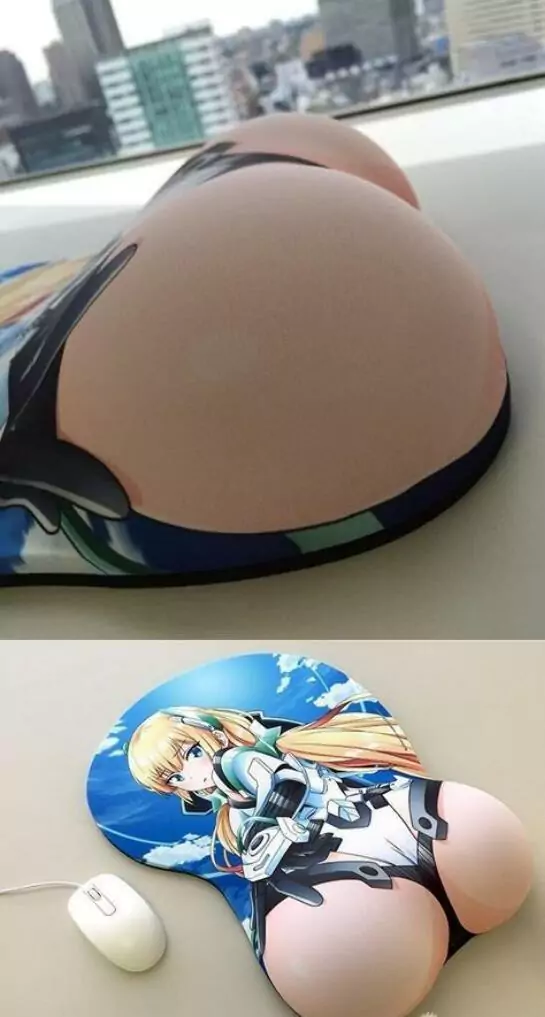 By choosing the right buttock mouse pad that suits you, we can work and live more healthily and comfortably.
After using the mouse pad for a long time, you need to clean the 3D mouse pad.
Diipoo's 3D mouse pads help improve posture, reduce waist and leg fatigue, and increase the accuracy and speed of mouse operation.
Diipoo's customized buttock mouse pad is a very practical computer peripheral product that provides comfortable support for users, reduces pressure and fatigue caused by long-term sitting, and protects users' physical health.
In the market, Diipoo's buttock mouse pads are also popular with good marketing effects. Its appearance not only improves people's comfort level but also provides better protection for healthy living.