With the improvement of people's living standards, their requirements for the living environment have become increasingly higher.
In addition to meeting daily functionality, aesthetics, and practicality are also hot topics of concern.
Today, Diipoo will discuss a must-have item in every household: rugs.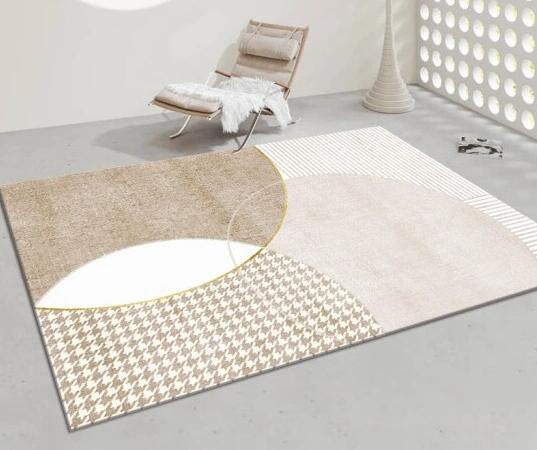 Benefits of rugs
Rugs are becoming more and more popular in today's society because they not only look beautiful but also offer many benefits.
Dust Absorption
Dust in the air is often invisible to the naked eye.
Rugs absorb dust and pet hair effectively, making them an excellent choice for allergy prevention.
Simply use a vacuum cleaner to clean the surface and easily remove dust and debris.
This saves you time and effort.
Sound Enhancement
rugs can absorb footstep sounds and various other noises from daily life, reducing overall noise levels.
This is particularly beneficial for residents in high-rise buildings as it reduces noise disturbance for those living below, creating a better living environment.
Thermal Insulation
The fibers in rugs provide insulation against heat transfer and cold temperatures.
During winter, rugs help retain warmth on the floor, while during summer, they store coolness from the surrounding air, effectively protecting your feet all year round.
Protection Against Scratches on Floors and Furniture
There is no doubt that rugs offer better protection for floors, especially in dining areas with frequent chair movement or households with children who may accidentally scratch surfaces.
Clear Division of Living Spaces
Placing rugs in front of sofas or under dining tables creates clear functional divisions within rooms.
Cushioning Effect and Anti-Slip Properties
Diipoo's "custom anime rugs" have excellent cushioning properties that absorb shocks caused by walking or falling accidents,
They increase resistance against slipping hazards while minimizing potential injuries even if falls occur.
Diipoo talked about so many benefits of carpets.
In our daily home life, how should we choose the carpet size? What size of the carpet is suitable for different spaces?
10% Discount Code: diipoo10
Custom Anime Rugs: The online design tool, worldwide shipping, images can be enlarged up to 16x. You can enjoy a 10% discount using the discount code "diipoo10."
Living Room
The living room is the center of daily activities.
Regarding furniture placement, we usually place the sofa in the center, followed by a coffee table and TV cabinet.
The sofa in the living room is usually our best reference for choosing a carpet.
Of course, it also depends on each family's habits.
Do you often sit on the sofa or prefer playing on the floor?
110×160 cm Rug Size
This is a two-seater sofa in a small apartment. The feeling of size leaves about 10 centimeters of space on both legs.
The recommended rug size is 110×160 cm, which gives a compact sense and suits solo living.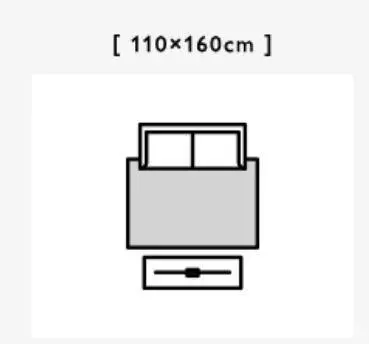 120×180 cm Rug Size
For a 2.5-seater or smaller 3-seater sofa, a 120×180 cm rug would be suitable. You can enjoy a relaxed lifestyle with this choice.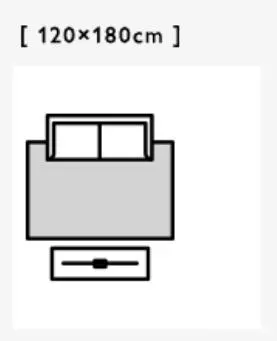 140×200 cm Rug Size
Not to mention a regular-sized 3-seater sofa that matches most sofas' dimensions.
A 140×200 cm rug would be appropriate and offers various patterns and materials.
If you don't place a low table in front of your sofa, there will be enough space for three or four adults to gather and play games.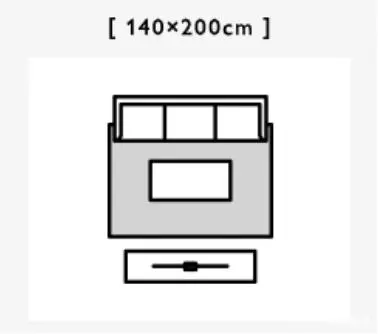 200×200 cm Rug Size
If you have placed a coffee table next to your seating area, using a 200×200 cm rug is recommended.
According to ergonomic layout principles, at least 60 cm should be between people's activity areas and objects.
Similarly, sit comfortably with an L-shaped arrangement with three-seater and two-seater sofas placed together.
At the same time, enjoying conversations and games would require an appropriately sized rug as well.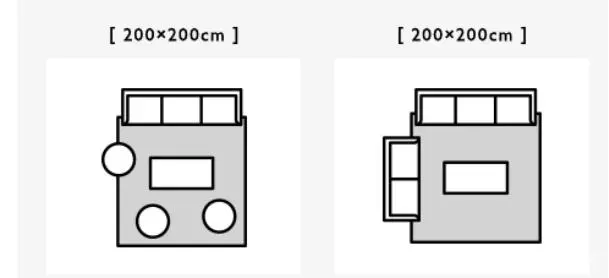 200×250 cm Rug Size
Suppose your living room is spacious enough to cover some floor area and place additional furniture like coffee tables for entertainment.
In that case, it is recommended to choose a 200×250 cm rug. It visually divides the space and highlights the area around the sofa in the overall environment.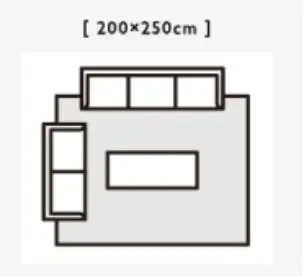 Dining Room
The dining room is a place for daily meals and an essential area in our homes.
However, it is often a space that requires moving chairs frequently and can be challenging to clean.
The burden on the floor is much more significant compared to other areas.
Therefore, when choosing rugs for dining rooms, our principle is to cover the entire dining table and chairs.
110×160 cm Rug Size
If your home's dining room is compact without a clearly defined separate space,
a 110×160 cm rug would be suitable. It works well for single or two-person areas.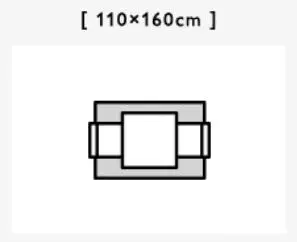 120×180 cm Rug Size
If your dining room has limited space, typically used for four people,
sometimes doubling as a workspace with one side of chairs left vacant,
we recommend using a 120×180 cm rug. This way, even if compact, it will still create an impactful presence as a dining area.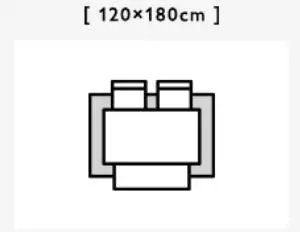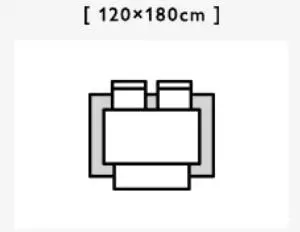 140×200 cm Rug Size
When your table size allows enough space for placing dining chairs comfortably, a 140×200 cm rug would be perfect for your dining room.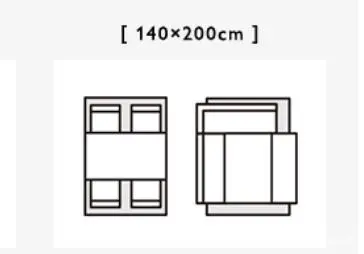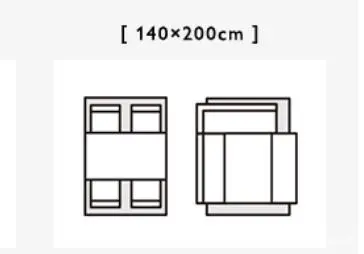 200×200 cm Rug Size
This versatile dining area can accommodate four people, a seating table for six people, and an L-shaped dining area.
The spacious square carpet provides comfort and effectively organizes the 200 x 200 cm space.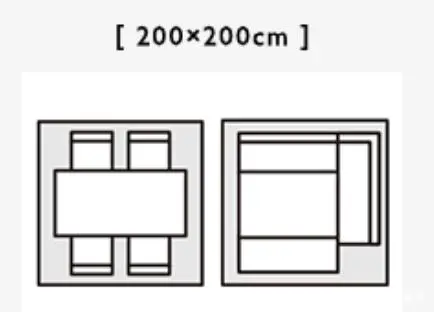 200×250 cm Rug Size
The rug should also be significant if you have a large dining table, such as one that is 200 cm or more comprehensive.
Anything above 200 x 250 cm would work. This visually divides the space and creates a strong sense of roominess.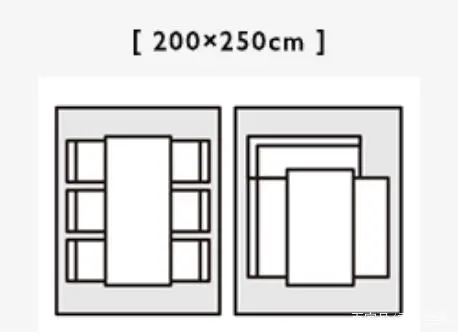 Bedroom
The bedroom is the space where you spend the most time in your life! Comfort is a top priority.
As an excellent otaku, free your feet with a carpet and create a more relaxed space.
Depending on the furniture and living scenario, different carpet sizes are chosen.
It can be placed beside or in front of the bed.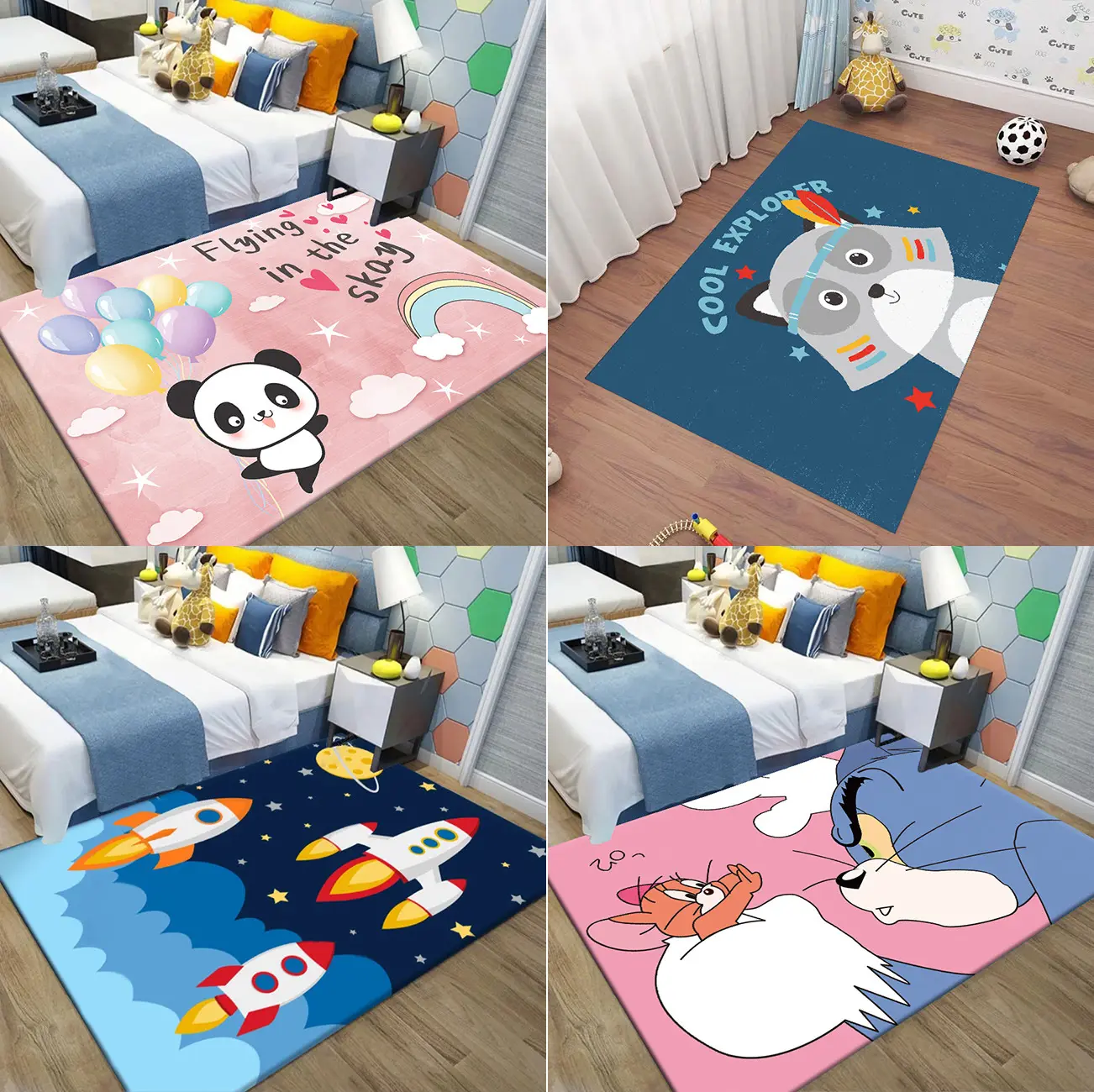 110×160 cm Rug Size
If the room is not large, we recommend using a 110 x 160 cm rug to cover where you enter and exit the bed. It also serves as a focal point in the bedroom.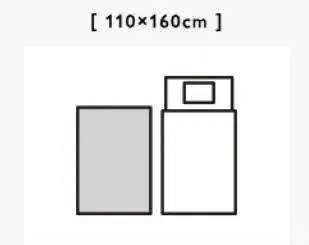 150 cm Rug Size
When you need both entertainment and functionality in the bedroom, such as for your child's room, we suggest using a round carpet with a radius of about 150 cm. The room will be spacious and have rhythm within its space.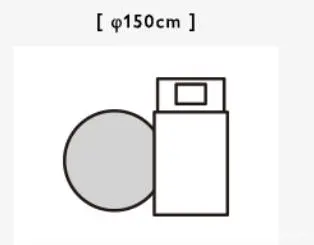 140×200 cm Rug Size
Of course, if your room is large enough to accommodate a leisure table next to the bed, you can place a 140 x 200 cm rug that aligns with the bed's width and the carpet's width.
This creates balance and brings together the entire bedroom.
Placing a leisure table on top of the carpet while leaving enough size on the floor is just right.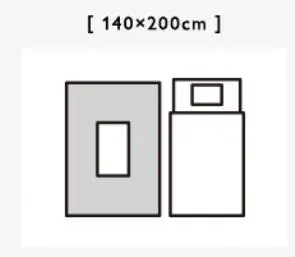 200×250 cm Rug Size
If you want to cover your entire bedroom with carpets, we recommend using rugs larger than 200 x 250 cm that extend in front of your bed. By matching bedding sets, it establishes a high-quality space that is coordinated and unified.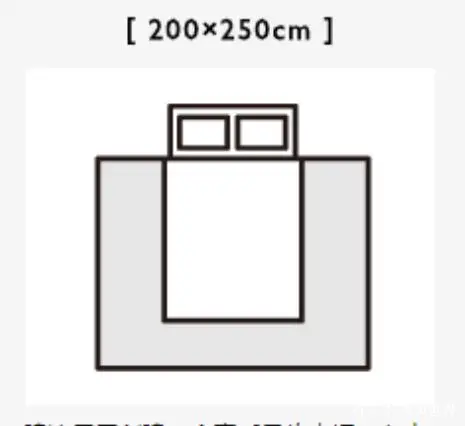 Different spaces require different sizes; therefore, we should choose suitable carpet sizes according to our needs.
This facilitates our daily lives and enhances our quality of life by beautifying our spaces. Why not take advantage of it?
Diipoo offers custom-made Japanese anime rugs, round anime rugs, and cute anime rugs. We have various anime sizes for you to choose from.
Diipoo's vision is to provide customized living options for Otakus! We already have over 50,000 satisfied customers.