As a professional anime otaku fan!
Have you ever thought about incorporating anime culture into your life?
Do you know about the derivatives and artworks of anime culture?
One example is – Anime rugs.
Nowadays, anime culture is flourishing.
Anime rug combines elements of anime culture and textile art.
Indeed, this unique anime rug has become a remarkable work of art.
Customize a cool anime rug.
Rugs have become cherished collectibles for anime fans to love and pursue.
Today, Diipoo wants to introduce a method to integrate anime culture into your home life – Anime rugs.
10% Discount Code: diipoo10
Custom Anime Rugs: The online design tool, worldwide shipping, images can be enlarged up to 16x. You can enjoy a 10% discount using the discount code "diipoo10."
What are Anime Rugs?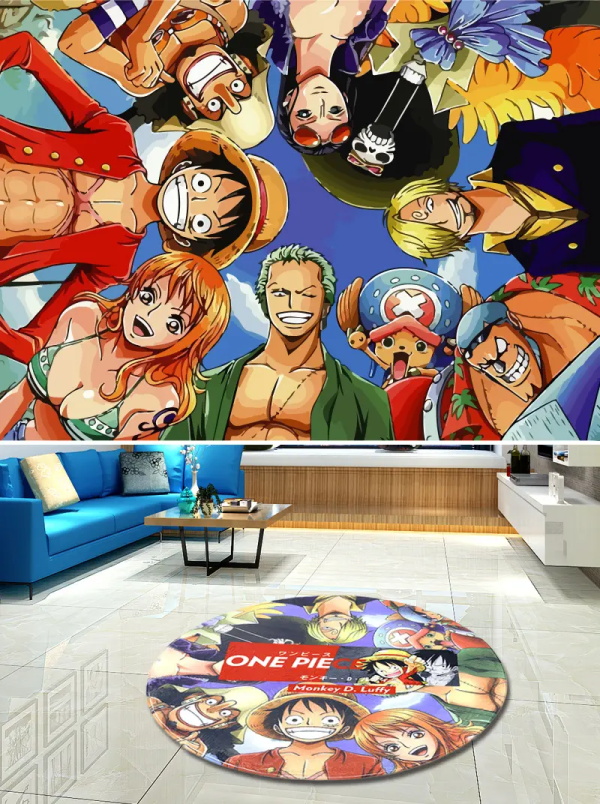 Anime rugs are floor decorations with anime works as their theme.
Rugs are usually made from various materials, such as crystal velvet and non-slip.
To attract viewers ' attention, they can showcase characters, plots, and scenes from animes with rich patterns and vibrant colors.
Anime rugs can be handmade artworks or commercially produced goods.
Diipoo's products are machine-made anime rugs.
Customize your anime product in three steps!
Rugs can inject more personalized elements into your home decor while bringing more joy to your life.
What Is a Japanese Anime Rug?
Initially, due to Japan's hot and humid climate, it was rarely used for purposes other than decoration.
In the late Edo period, rugs with Chinese elements began to be produced.
These rugs had plush piles suitable for Japan's hot and humid climate.
Today, Japanese anime rugs are a type of floor covering.
They are designed inspired by popular anime series in Japan.
Japanese anime rugs are used to decorate rooms such as bedrooms, living rooms, kitchens, etc.
If you want more information about this topic, please refer to this article: Japanese anime rugs.
Why Buy Anime Rugs
Anime rugs play an important role in the world of anime culture and have the following influences:
Love and Identification
For many fans, owning an anime rug becomes one way to express their love for the work they identify with.
An anime rug immerses people in their favorite fictional worlds, enhancing their sense of belongingness and satisfaction.
A Real-World Connection
Anime rugs often appear at exhibitions, events, and promotions related to animes.
They provide audiences with a more immersive experience by showcasing elements and plots from the works themselves.
When standing on a large anime rug, one can truly immerse themselves in the entire world depicted within it.
Practicality Meets Fandom
Diipoo's anime rug is soft and skin-friendly, with excellent touch, which can be placed at home to prevent floor scratches.
It provides a comfortable foot feel, is sturdy and durable, with various patterns, greatly enhancing the happiness of home life.
It is not easy to shed or have frayed edges, and it does not release crumbs.
The rug is oil-proof and water-resistant; it does not contain formaldehyde or any unpleasant odor.
The delicate printing will not fade. It is environmentally friendly and comfortable, making it an excellent choice.
Placing it at the entrance of your home allows you to scrape off the dirt and dust stuck on your shoes when you come back!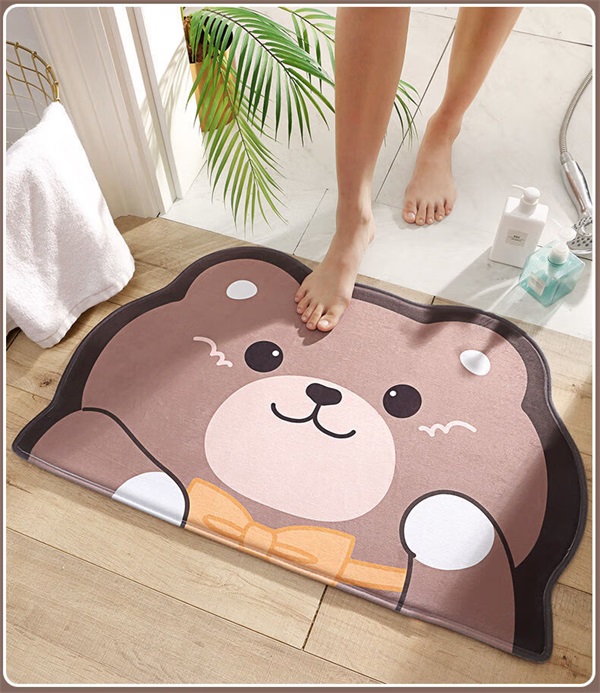 Characteristics of Anime Rugs
Wide Variety of Design Styles
Anime rugs come in a wide range of design styles.
From cute cartoon styles to realistic character images, from bright color combinations to immersive atmospheres – you can find them all in anime rugs.
Recreation of Anime Elements
Through the use of patterns and colors, anime rugs recreate elements from anime works, including classic characters, iconic scenes, and important plot points.
This allows people to experience the charm of anime works firsthand.
Creative Expression and Tribute
Anime rugs are not only a tribute to anime works but also an expression of love for these works by fans.
They reflect the significant role that anime culture plays in personal lives while becoming a way for fans to showcase their hobbies.
Diverse Sizes and Types
Diipoo offers customized shapes for different types of anime rugs, as other rooms require different sizes for their respective rugs.
Different Types Include
Shapes: Round anime rugs; Large anime rugs.
Attributes: Cute anime rugs; Cool anime rugs.
Areas: Anime bathroom rugs; Anime bedroom rugs.
Different Sizes Include
There are over six custom sizes available for these rugs:
40×60 cm; 50×80 cm; 60×90 cm; 40×120 cm; 50×150 cm; 150×200 cm, etc.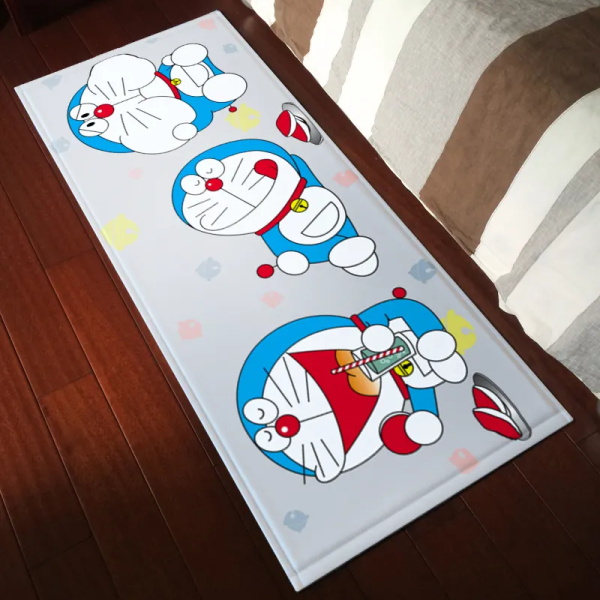 The Production Process of Anime Rugs
Creating an anime rug involves several steps:
Design Phase
Based on the chosen anime theme, designers will create patterns and color schemes to represent the anime work's characteristics accurately.
Material Selection
According to the design plan, suitable textile materials such as wool, velvet, or synthetic fibers are selected to ensure both texture and aesthetics of the rug.
Production Techniques
Following the design requirements, production is done through printing or embroidery.
Skilled artisans use tools such as looms or embroidery needles for handmade rugs.
The patterns and colors are gradually woven or embroidered onto the carpet.
Commercially produced rugs often use digital printing technology to print designs directly onto them.
Processing and Finishing
After completion of rug production, processing, and finishing procedures are carried out.
This includes trimming the edges of the rug and handling any intricate parts.
Cleaning and tidying up are also done to maintain its appearance and quality.
10% Discount Code: diipoo10
Custom Anime Rugs: The online design tool, worldwide shipping, images can be enlarged up to 16x. You can enjoy a 10% discount using the discount code "diipoo10."
Anime Rug Classification
With the increasing popularity of anime rugs, anime bedroom rugs have gradually emerged.
Use rugs with anime elements to decorate the bedroom.
Its purpose is to create a comfortable atmosphere you like, so you can do what you love in an environment you love.
The anime bathroom rug differs from the bedroom rug; its function tends to be practical.
Mainly in terms of anti-slip function, the bottom of the anime bathroom rug uses unique anti-slip materials.
A non-slip can ensure safety during bathing.
Let you have a great mood throughout the entire bathing process!
Circular anime rugs are more fashionable and novel.
They can be laid on the ground without being obtrusive, giving people a sense of completeness and beauty.
Suitable for placement in living rooms, bedrooms, bars, and restaurants.
When there are coffee tables, dining tables, sofas, or chairs nearby, entertaining guests becomes more comfortable and elegant.
Customize large anime rugs with characters and scenes from your favorite animations printed on them.
Large anime rugs can cover the entire restaurant, bedroom, or living room.
The large area of ​​anime elements can blend into otaku homes seamlessly.
A cute anime rug printed with various cute cartoon characters, animals, and hand-drawn styles.
The cute style of the anime rug adds unique decoration to your room.
These rugs make your room look adorable and provide a comfortable feeling.
For example, you can customize a lovely rug to decorate your room.
You can see various comic characters on an anime rug。
For example, the whole carpet is filled with different animated characters from multiple animations。
Because you customize it, they're all on one single piece!
Each one has cool style expressions full of youthfulness and fashion sense that catches people's attention.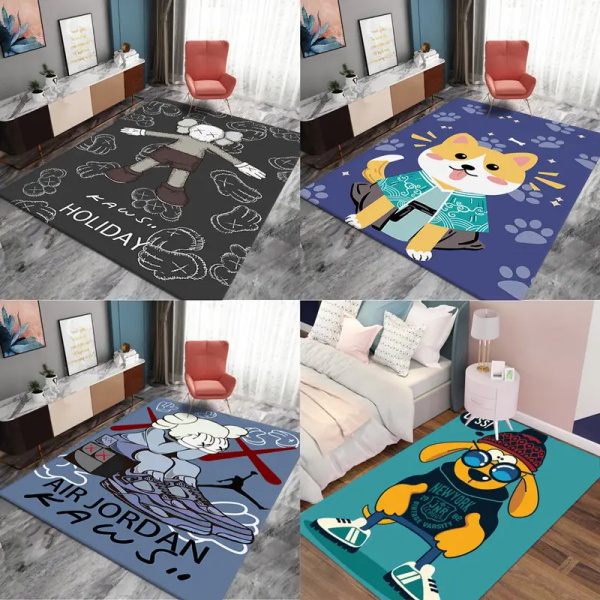 Advantages of Anime Rugs
Images can be enlarged at will.
Enlarging images by two times, four times, eight times, or even 16 times can transform blurry pictures into high-definition ones.
Easy Rug Cleaning
Rugs can be machine-washed or shaken to remove impurities.
Custom sizes are available in more than six options: 40×60 cm, 50×80 cm, 60×90 cm, 40×120 cm, 50×150 cm, and 150×200 cm.
Multiple Rug Types to Choose From
You can choose whether it's circular or square-shaped rugs or any other shape you like.
Simple Operation Process
Diipoo's three-step customization for rugs – uploading images, selecting sizes, and placing orders – is simple and convenient.
Choosing the Right Anime Rug
When you're ready to purchase an anime rug, there are three aspects to consider:
Firstly, your interests and hobbies; secondly, the size of the rug; thirdly, the rug's color.
Interests and Hobbies
Firstly, you need to select a theme that interests you.
For example, if you are a passionate fan of "One Piece," you can choose an anime rug with main characters and scenes as its theme.
You can also choose themes such as "Attack on Titan" or "Dragon Ball" to add a sci-fi vibe to your home decor.
It would be best to consider the rug size and the corresponding space in your home.
You can opt for a larger anime rug if your living space is a large anime rug.
Let it occupy more area so that it becomes the centerpiece of your home.
If your room has many square-shaped furniture pieces, you may want to choose a round anime rug.
Circular rugs have a softer visual effect and can better highlight the beauty of other items.
Rug Color
You also need to consider the color of the rug.
It should coordinate with your home decor.
If your home is predominantly blue or orange, you can choose an anime rug with these two colors as its central theme.
This will create a more harmonious look for your home decor.
Once you have obtained your desired anime rug, knowing how to take care of it is essential.
You need to keep the room clean by regularly sweeping or vacuuming the floor surface so that dust does not accumulate.
If you have pets at home, be mindful of their scratching behavior and prevent them from damaging the rug.
In case of accidental stains on the rug, wipe them off with a damp cloth first and then use a vacuum cleaner for further treatment.
Please refer to this article, where Diipoo will teach you how to store rugs properly.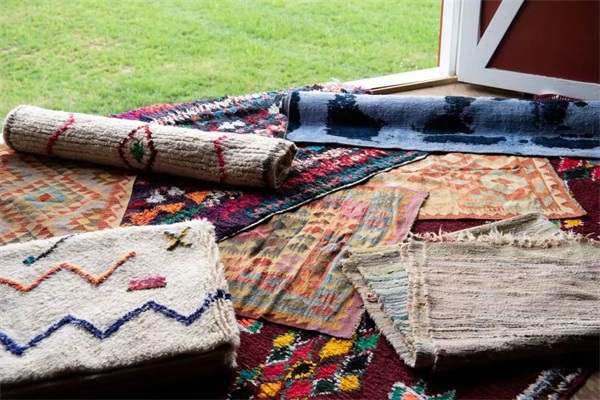 Why Choose Diipoo?
Diipoo's vision is to provide customized anime lifestyle products for otaku enthusiasts.
We offer free services such as image enlargement and an online tool for creating custom anime rugs.
Anime rugs serve as artistic representations of anime culture, showcasing captivating elements from various works.
They are not only decorative pieces but also reflect a way of life.
They provide viewers with immersive experiences.
10% Discount Code: diipoo10
Custom Anime Rugs: The online design tool, worldwide shipping, images can be enlarged up to 16x. You can enjoy a 10% discount using the discount code "diipoo10."