Dakimakura is not only a bedding, but also our Waifu. Because of its diversity of functions, it is more and more favored by otaku, and has become a part of their life.
If sometimes we have to clean the dakimakura, or if we don't use it when we go out, how can we fold them and then put them in storage bags?
Now I'd like to share with you a good trick to fold dakimakura.
Fold dakimakura
1. Take out the dakimakura, open the zipper, remove the pillow core inside, and start to fold the pillowcase.
2. If you have purchased Custom 3D Oppai dakimakura, then you need to remove the 3D oppai and pillow core inside before folding the pillowcase.
3. Now let's explain how to fold the pillowcase in detail.
4. First, use both hands to hold the two corners on the same side. Then push hard to both sides to make the pillowcase flat on the bed.
5. Then fold the pillowcase from the outside to the inside, about one third of the width.
6. Then there are some wrinkles on the surface of the pillowcase. At this time, use your hands to press both sides to smooth these wrinkles.
7. When there is no wrinkle, fold the pillowcase again, and finally put the head of the pillow on the top.
Clean dakimakura
Washing with mild washing powder;
Put dakimakura into the washing powder solution, and constantly squeeze it by hand until it is washed clean, and the excess detergent must be squeezed out;
Rinse dakimakura with clear water until it is clean, and finally squeeze out the excess water;
Put dakimakura flat and dry, making it softer and ore fluffy.
Dakimakura of different materials should be cleaned with different cleaning methods.
The latex dakimakura shoulded be soaked with cold detergent, gently pressed by hand, rinsed repeatedly with clear water, then wrapped with dry cloth, and then placed in a cool place for air drying after most water is absorbed.
Why we should need a dakimakura?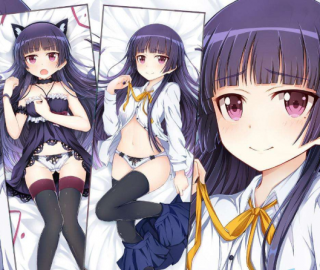 Do not expose to the sun to avoid deterioration and oxidation of materials.
When tired, put a dakimakura behind the waist to relieve the tension on the back and dispel the body fatigue;
After having walked a long way, put a dakimakura under the legs, and can gently alleviate the discomfort of the legs;
When watching TV, holding a dakimakura in your arms makes you feel more comfortable and relaxed.
Hold the dakimakura you like when reading, chatting, listening to music, drinking coffee and even sleeping, and happiness will immediately surround you.
Custom Dakimakura bring us a sense of security and comfort, so it's our duty to protect them.
Taking good care of them also makes it easier to store, and more convenient to use in the future.