How many otaku are there who love anime, but can only miss their anime character waifu in another dimension at every lonely night. They can see their waifu, but can't touch them.
Until the appearance of anime body dakimakura which enables otaku to hug their waifu to sleep in cozy bedding.
However, peripheral product is a big study, the level is varied, and body dakimakura is no exception. Here, I'd like to share my personal experience.
First, let's talk about the fabric of dakimakura. Plush, peach skin, milk silk, 2way dakimakura (also known as 2wt) are common materials in the market, and today we will focus on what is peach skin dakimakura. By the way, if you want to custom dakimakura, tell us please.
Related Articles:
8 Questions You Must Know 2 Way Tricot Dakimakura
9 Excellent Reasons To Why Buy A Dakimakura
How To Custom Body Pillow With Picture? There Are Two Ways You Should Know
26 Dakimakura Templates You Must Try
Why is it called peach skin?
Peach skin belongs to chemical fiber fabric, and its main fabric composition is polyester or nylon.
In the process of fabric processing, a frosting process is added, which makes the surface of fabric have nap of 0.2mm. At the same time, the fabric feel is more delicate, and the air permeability is also good.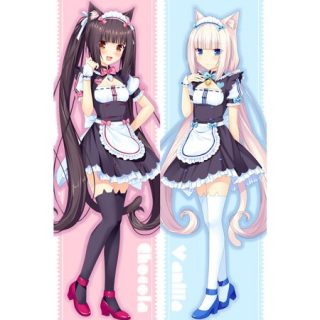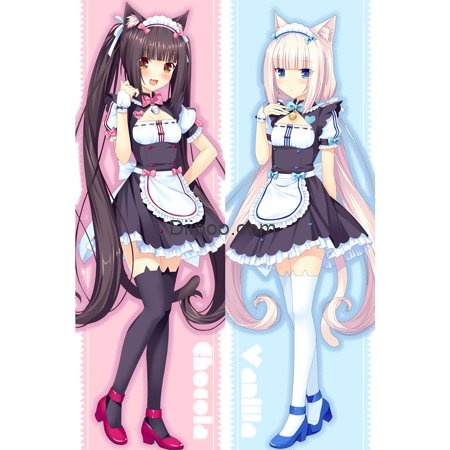 Appearance of peach skin dakimakura
The nap on peach skin dakimakura can be felt by the skin, but almost can't be seen, because it's shorter than other materials.
Peach skin is soft and elegant in luster. Compared with artificial suede, it gives consumers a sense of novelty. It meets the consumer psychology of curiosity, so it quickly becomes popular in the international market.
Price of peach skin dakimakura
Peach skin has general warmth retention and low elasticity, and it is difficult to fill pillow core into the cover made of it. But it has good pattern precision, can be machine washed and sun dried, and has high durability. It is suitable for people who have no special requirements for fabric.
Peach skin dakimakura are cheap. Their prices on many websites are not higher than 2way dakimakura.
Characteristics of peach skin dakimakura
It has the functions of moisture absorption, air permeability and water resistance as well as the silk like appearance and style. The fabric is soft, glossy and smooth.
Can be machine wash and hand wash dakimakura, and it will never fade.
It is suitable to be customized according to pictures provided, and there is no limit to the design. For example, if you order 1 pillow or even 100 pillows, you can choose 100 different designs.
The hand feel is comfortable, can be very close to the body, and alleviate fatigue.
Use of peach skin dakimakura
Peach skin can be used as clothing fabric (jacket, shirts, skirts, etc), and is also the ideal material for packing boxes, shoes, hats and furniture decorations.
Used as customized products, they are suitable for Custom Dakimakura or 3D Oppai Dakimakura, providing a unique choice.
Used as household items, you can rest your head on it or hug it, providing pleasant enjoyment.
Used as automotive supplies, you can rest your head on it or lean on it, relieving your fatigue when travelling.
They can also be used as advertising promotion products, advertising gifts, gifts among friends, tourism supplies and so on.
Why need peach skin dakimakura?
1. Peach skin dakimakura belongs to bedding. It has different feeling to hold or lean on it. The dakimakura is an indispensable fabric product in the bedroom. It is comfortable to use and has an irreplaceable decorative effect over other items.
2. Peach skin dakimakura can be used to adjust the contact point between human body and seat or bed, so that you can have a more comfortable angle to reduce fatigue.
3. Because dakimakura are convenient and flexible, they are easy to be used in various occasions, especially the bedroom bed and sofa. On the carpet, you can also use dakimakura as seats.
4. The decorative function of peach skin dakimakura is prominent. By comparing the colors and materials of the dakimakura with the surrounding environment, they can make the artistic effect of the furnishings more colorful. Peach skin dakimakura will activate and adjust the environmental atmosphere of the bedroom.